Providers
Latest updates
Effective November 4, 2022, AmeriHealth Caritas Florida is replacing the existing payer-provider platform with NaviNet. Beginning October 3, 2022, you may register for NaviNet. Learn more (PDF).
Network News is our new email service.
Be informed of the most important provider news and alerts. Signing up is a two-step process — both registration and email confirmation are required.
View additional updates on our Newsletters and Updates page.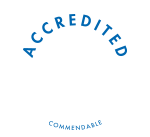 AmeriHealth Caritas Florida has earned the Commendable Health Plan Accreditation status from the National Committee for Quality Assurance (NCQA) for 2019–2020. The NCQA awards this status to organizations with service and clinical quality that meet their comprehensive requirements for consumer protection and quality improvement.
AmeriHealth Caritas Florida recognizes that our provider partnerships are a major factor in our ability to deliver quality Medicaid services and neighborhood-based care throughout Florida. Every day, AmeriHealth Caritas Florida's mission to provide quality, affordable service to the underserved in our communities is reflected in the care, expertise, and support that our providers offer.
---
Direct secure messaging
Direct secure messaging (DSM) enables managed care organizations and providers to securely send patient health information electronically to many types of organizations. AmeriHealth Caritas Florida encourages network providers to use the Florida Health Information Exchange (HIE) to send orders, records, results, and other health information.
We want to thank our providers for helping to make AmeriHealth Caritas Florida a better health care plan. Your feedback, questions, and concerns are always welcome. Call Provider Services at 1-800-617-5727 to speak to a representative.