Providers
Effective March 1, 2022, AmeriHealth Caritas Florida will require a provider taxonomy code on all claims.
Please update your billing systems as soon as possible to prevent claim rejections.
For all Medicaid and CHIP providers: The U.S. Department of Health and Human Services (HHS) has announced additional distributions from the Provider Relief Fund to eligible providers. Under this Phase 3 General Distribution allocation, providers that have already received Provider Relief Fund payments will be invited to apply for additional funding that considers financial losses and changes in operating expenses caused by the coronavirus. Previously ineligible providers, such as those who began practicing in 2020, are also being invited to apply, along with an expanded group of behavioral health providers.
Applications due November 6: Providers will have from October 5, 2020 through November 6, 2020 to apply for this Phase 3 General Distribution funding.
Eligibility: Providers eligible to apply for this Phase 3 funding include:
Providers who previously received, rejected or accepted a General Distribution Provider Relief Fund payment. Providers that have already received payments of approximately 2% of annual revenue from patient care may submit more information to become eligible for an additional payment.
Behavioral Health providers, including those that previously received funding and new providers such as addiction counseling centers, mental health counselors, and psychiatrists.
Health care providers that began practicing January 1, 2020 through March 31, 2020. This includes Medicare, Medicaid, CHIP, dentists, assisted living facilities and behavioral health providers.
Payment methodology: According to HHS, all eligible providers will be considered for payment based on the following criteria:
All provider submissions will be reviewed to confirm they have received a Provider Relief Fund payment equal to approximately 2% of patient care revenue from prior general distributions. Applicants that have not yet received Relief Fund payments of 2% of patient revenue will receive a payment that, when combined with prior payments (if any), equals 2% of patient care revenue.
With the remaining balance of the $20 billion budget, HRSA will then calculate an equitable add-on payment that considers the following:

A provider's change in operating revenues from patient care.
A provider's change in operating expenses from patient care, including expenses incurred related to coronavirus.
Payments already received through prior Provider Relief Fund distributions.
Additional information on determining eligibility and how to apply if eligible can be found on the HHS website at https://www.hhs.gov/coronavirus/cares-act-provider-relief-fund/for-providers/index.html#how-to-apply [hhs.gov].
Other terms and conditions may apply as specified on the HHS website at https://www.hhs.gov/sites/default/files/terms-and-conditions-phase-3-general-distribution-relief-fund.pdf [hhs.gov]
For additional updates and to learn more about the Provider Relief Program, please visit: hhs.gov/providerrelief [hhs.gov].
AHCA COVID-19 website: As a reminder, the agency's COVID-19 alert website ensures providers have all agency guidance in one centralized location. The website can be accessed through the following link: http://ahca.myflorida.com/covid-19_alerts.shtml [clicktime.symantec.com]
Coronavirus (COVID-19)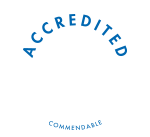 AmeriHealth Caritas Florida has earned the Commendable Health Plan Accreditation status from the National Committee for Quality Assurance (NCQA) for 2019–2020. The NCQA awards this status to organizations with service and clinical quality that meet their comprehensive requirements for consumer protection and quality improvement.
AmeriHealth Caritas Florida recognizes that our provider partnerships are a major factor in our ability to deliver quality Medicaid services and neighborhood-based care throughout Florida. Every day, AmeriHealth Caritas Florida's mission to provide quality, affordable service to the underserved in our communities is reflected in the care, expertise, and support that our providers offer.
Direct secure messaging
Direct secure messaging (DSM) enables managed care organizations and providers to securely send patient health information electronically to many types of organizations. AmeriHealth Caritas Florida encourages network providers to use the Florida Health Information Exchange (HIE) to send orders, records, results, and other health information.
We want to thank our providers for helping to make AmeriHealth Caritas Florida a better health care plan. Your feedback, questions, and concerns are always welcome. Call Provider Services at 1-800-617-5727 to speak to a representative.